WASHINGTON – The Honorable Minister Louis Farrakhan was cheered and applauded during the annual meeting of Unity, which stands for the United National Indian Tribal Youth, a group devoted to the development of native young people.
He talked about the value, deep history and longtime oppression of the indigenous people of America and the need for Native American youth to embrace and pursue a deep understanding of who they are to reclaim their land, restore the Red Nation and create a future for themselves and their people.
Sleepy Eyes La Fromboise had heard of but didn't know much about the Minister before he spoke. But what he heard from the respected leader he liked. "I was really impressed with the fact that he, not only all the people that support him and he represents, acknowledges our Native American people and he is calling them out to the forefront of all his issues," said Mr. La Fromboise, a respected leader at Unity. He is Dakota and Seneca Indian and lives in Oklahoma.
He had a different experience when invited to a conference by civil rights leader Jesse Jackson, who spoke of the atrocities committed against everyone except Native Americans during one address. Rev. Jackson later apologized in a private conversation, noted Mr. La Fromboise.
Min. Farrakhan is trying to call us into the social justice movement and spoke of important issues related to land ownership and resource ownership, which includes land that could be used to grow wholesome food, he said.
The general consensus of youth shared was the Minister said some powerful things and "overall came off in a positive way," he said. Some youth were concerned about bringing negativity based on a widespread native belief that anger or hatred are rejected and there is only pity for the one who does wrong, whether he repents or not, Mr. La Fromboise explained. Min. Farrakhan did not have that view, he said.
The Minister's call for the Native American tribes and nations to come together against injustices and things that threaten the community fit Unity's goal of bringing young people and different tribes together, he said. "It was really nice to hear," said Mr. La Fromboise.
He agreed with the call for the unity of the Black and the Red, and believes it should be expanded across the globe. It is going to take not only the Black and the Red but all indigenous people that have general respect for life and humanity and the earth, said Mr. La Fromboise, who noted that representatives from New Zealand and Thailand at this year's conference helped to expand the minds of youth to think of a worldwide movement.
He felt the Justice Or Else! gathering planned for Oct. 10, 2015 was a great idea and message. In his view "Or Else" isn't a call to war, or just an activist reaction but a call to stand up against injustice while there is still time to stand. Mr. La Fromboise shared how one of his native uncles called police for help with a son and in less than one minute the police shot and killed the young man.
There are a lot of killings of Native Americans by police and these total injustices need to be addressed, he said. But the biggest injustice may be the atrocities committed against the earth and the environment, which will leave future generations with nothing, he said.
Native Americans are facing major battles over oil pipelines, coal mining, water and water rights and these environmental issues are major factors in the world's future, he said The "Or Else" is our children, grandchildren and unborn children won't have clean air, clean water and clear food if we don't act, said Mr. La Fromboise. Much of the native land leased out to non-Indians includes farming with harmful pesticides that pollute the earth and the water, he said.
Mr. La Fromboise, who has been connected to Unity for over 20 years, is entrusted with overseeing the sacred fire, which is a flame lit at the beginning of the conference. It burns constantly and is tended to day and night. It is a place for song, dances, prayers and promotion of culture and native ceremonial life.
"I thought (Min. Farrakhan's) words were very powerful. I kind of laughed about the part where he kinda told the White people off a bit. It's kinda true though," said Jalen Smallcanyon who lives in Page, Ariz.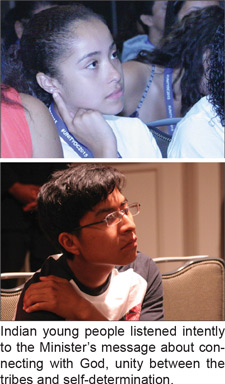 "I come from a family where we believe in the idea that we are not Americans, we are Navajo. We don't say we're Americans, I say, 'I'm Navajo.' We don't really embrace the American culture. The way my family interprets it is America is basically built on genocide and enslavement. That's why we don't embrace it with Columbus Day and stuff like that," said the 17-year-old.
And as Minister Farrakhan said, culture and language are important to her. "It's the only thing we have from the past to hang on to from our ancestors," said the teenager. "If we don't know who we are we can't know the future so we have to embrace it and lead us into a better future, a brighter place."
"It was so surreal powerful, he is one of the world's best speakers for sure," Marcus Anthony Gwynn, alias "Emcee One" and keeper of the music and sound at the conference, said of Min. Farrakhan. Emcee One came to D.C. from Oklahoma City, Okla. He got to take a selfie with Min. Farrakhan.
He was struck by the Minister's words about spirituality and a strong connection to the Creator. He is Osage Pottawatomie and Puerto Rican.
Youth have power today, said Emcee One. While music is a $14 billion to $16 billion industry, alcohol companies make $18 billion a year on underage drinking, he said. That is an example of the impact young people can have today, he stressed.
Vikki Eagle Bear of Rosebud, S. Dakota, works with the Defending Childhood Initiative. She brought 24 young people to the Unity conference and was trying to keep up with them. Then she heard a booming voice from inside the meeting room. Well over 1,000 youth were in the room as the Minister spoke during a main plenary session. Over 40 states and 200 tribes were represented. Organizers said 1,800 youth registered for the conference—a new record.
Ms. Eagle Bear hadn't looked at the day's activities and didn't know Min. Farrakhan was scheduled to speak. She was surprised when she saw him and told the young people in her group who he was.
"I was just amazed. He was very empowering and that, like I said, is our goal with our kids, it's to empower them. His words were powerful. He was motivating and he just woke something up in me that I really didn't think I had before I came here," said Ms. Eagle Bear.
"It was amazing to have him here," she said.
Ms. Eagle Bear admitted she personally never thought of unity or connections between the Black and the Red that the Minister spoke of. But she has seen a movement talked about on social media and admits the struggles are very similar. "I don't see it. I don't know why, the struggle is the same, the intergenerational trauma is the same. I think once everybody sees it, there will be better understanding," she said.
It was "awesome" to have the Minister encourage the young people to pursue knowledge to benefit themselves and their people, she said. "I am so glad he said that I really am," Ms. Eagle Bear added.
She later had a conversation with a young man in her group who wants to be a lawyer and discussed using the law to empower Native Americans, not just focusing on a job, but challenging unfair U.S. government systems.
First Lady Michele Obama spoke July 9 at the first Tribal Youth Gathering at the White House. She was received with cheers and shouts from the audience. Federal officials, congressmen and the first lady spoke to the youth. Mrs. Obama talked about the customs and contributions of the native peoples in arts, medicine, politics and agriculture to the United States.
"Yet as we all know America has not always treated your people and your heritage with dignity and respect. Tragically it's been just the opposite. Your traditions were systematically targeted for destruction. Your people were forced to relocate from lands they had lived on for generations," she said.
Blatant discrimination is behind us but discrimination remains with poor families and the problems of violence and despair, she continued. But native young people she met last year have not given up and that is your story as rising leaders in your nations and the world, said Ms. Obama.
She told the students to pursue education, learn to hold political leaders accountable, run for office and confidently face harsh circumstances. "You all have a role to play and we need you," said Ms. Obama.
She urged the young people to connect with one another and said White House officials who spoke at the conference and the president and first lady have "got your back."
But Rodney Walls, Jr., of the Piscataway Conoy tribe was not allowed to attend the White House session. His tribe only has recognition from the state of Maryland, not the federal government.
Rodney said he was told the Piscataway were not allowed to participate because the White House only wanted federally recognized tribes in the room.
"You're in our backyard, we've always been here. And you telling us that though we're from that area, we can't hear the first lady speak? I thought that was just a way of having control of us. Just because you don't give us a title, we're not allowed to participate with other natives? That's just a way of controlling the situation," said Rodney, who is 22-years-old.
Still he was happy to see so many native youths together and hopes the Unity conference will continue to grow. It was nice to see native youth expressing pride, he said.
Min. Farrakhan "was a very powerful speaker. And I felt like he touched bases, not just on other differences going on in the world, but mainly with native and African people. It's the same thing, the White man has come and taken land from us and pretty much tried to enslave us in their own way. And it's like we should reclaim what is ours," Rodney said.
The Minister's message really got into the minds of the younger ones, who were thinking and talking about different questions they would like to ask him, he continued.
"As for justice for all, I am with it 100 percent. It's time for a change. We shouldn't have to worry about if we call the police for one reason we're going to get a casket the next. We should be protected by the police, not beaten by the police," said Rodney.
Just as there is no birth record for the Red Nation, there is no birth record for the Black Nation and these groups despised and rejected in the United States are going to rise, said Min. Farrakhan July 10. The Black and the Red fit the biblical description of the last that shall be first, he said.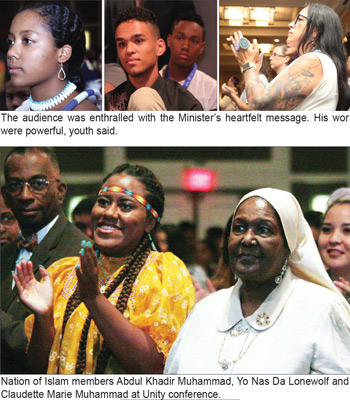 The crowd was assembled in a ballroom at the Renaissance Hotel in downtown Washington, a city whose professional football team has been embroiled in a controversy for its insistence on using a racial slur as the name for the National Football League franchise.
Everything that God created has a purpose and there is no higher creation than the human being, Min. Farrakhan explained. "The most precious knowledge of all is the knowledge of self and the knowledge of God," said the 82-year-old leader. But self-knowledge and the knowledge of God are one and the same, he added.
Suicide is a problem among native youth because a stronger connection with God is needed, the Minister said. Man is created in the image of God and with a share of the power of God, he continued. "I don't have to look for God, I see God when I am looking at you."
A deep understanding of self and the divine part of self buttresses the ability to withstand and overcome any negative circumstance, the Minister said.
The crowd cheered, applauded, stood and voiced their approval throughout his message. Many in the crowd wore traditional dress and carried banners and flags representing their tribes. Yo Nas Da Lonewolf facilitated the Minister's appearance at the conference. She is a member of the Nation of Islam, whose mother Wauneta Lonewolf was a respected leader, friend of Min. Farrakhan and helped create relationships between the Nation and the Native American community.
A brief video of the Minister, which highlighted the Million Man March in 1995 and his recognition of and ties with Native Americans, preceded his remarks. It included video of Native American leaders at Nation of Islam annual conventions.
The Native Americans are really one nation and understanding and acting on that knowledge will bring power, said Min. Farrakhan. You have indigenous family members throughout the Americas and around the world, making you a majority, not a minority, Min. Farrakhan declared.
But inside America, millions of acres of native land, desolate places where the Indians were banished by Whites, contain the last of the precious mineral deposits in the United States, said Min. Farrakhan.
Millions of acres are held in trust by a government you cannot trust, under suspect leasing agreements and more is owned by non-Indians, he said.
How can that be? the Minister asked. The weakness of disunity will cause you to lose that little land you are trying to keep, said the powerful leader.
Whites have broken every treaty signed with the native people, gave them smallpox in blankets and pushed them on to reservations beset by alcoholism, drug abuse and poor food, said Min. Farrakhan.
Indian youth must learn engineering and disciplines that will allow them to mine and control the natural resources under their feet, he advised. Master the English language, which isn't your language or mine, but it is the language of the law and the language used to trick native people, the Minister continued. Never abandon your traditions, original language or original names, said Min. Farrakhan. Learn your original tongue, wear your traditional names proudly and make people respect your culture and your names, he said.
In taking questions, the Minister appealed to the Native American community to join "Justice Or Else!" the 20th anniversary gathering of the Million Man March to present its grievances that the U.S. government should address.
Asked about forgiveness, the Minister laid out the parameters for true forgiveness. The Pope is visiting South America and asked the native people for forgiveness, Min. Farrakhan noted. But forgiveness cannot come before a petition for forgiveness, a confession of wrong and a redress of wrong is performed, he said.
If you forgive someone who is trying to kill you with no requirements for forgiveness and that sets the stage for future attempts to kill you, the Minister warned. You can simply forgive Whites for the evil done to native people, but the Great Spirit never will, he said.
When the Minister thanked the audience for the honor of speaking and said he had to go, the crowd responded with shouts of "No! Stay!" and many rushed forward trying to snap a photo of the man who declared his love and loyalty to his Native American family.