DETROIT – With less than two months left before the 20th Anniversary commemoration of the Million Man March, the Honorable Minister Louis Farrakhan continued his call for unity and justice throughout all areas of the ideological spectrum.
This time his demanding schedule took him to Southfield, Michigan, headquarters of the urban religious broadcasting station, The Word Network for a guest appearance on "The Empowerment Experience" hosted by Baltimore-based Reverend Dr. Jamal H. Bryant. According to station officials, the network reaches over 89 million U.S. households.
Dr. Bryant's dynamic television ministry showed the power of unity as followers of Islam and Christianity sat side by side in the studio lifting their voices in praise to the one true God. While some in the days leading up to the August 3 show attempted to sow the seeds of discord in an attempt to divide God's people, the power of those determined to stop Black on Black killing and the efforts of those marshaling forces to put an end to police killing unarmed Black men and women is proving to be stronger.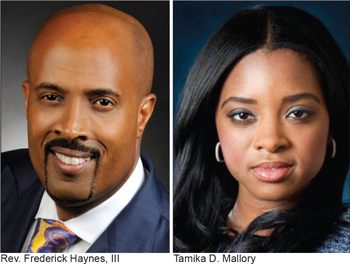 "Make no mistake about it, we are in a state of emergency, and this is a code red. This is a night you've never seen before and a night you'll never forget," said Dr. Bryant. "Tell them tonight the revolution will be televised," he added.
Many know about the mysterious death of Sandra Bland in Texas, but Dr. Bryant informed viewers that five other women have died in police custody over the previous two weeks and every 28 hours a Black man is killed by police, he said.
"We've got to stop the violence and stop the madness," said Dr. Bryant. "Today we are marching together, Christians, and Muslims, understanding that God is getting ready to do something because we have to change the tide of America," said Dr. Bryant.
"The family that prays together goes to war together," said Dr. Bryant. "The church is not on the sideline, the church is on the front lines of what is taking place. We are at war all over this nation. It seems to be a war against our people," he added.
Dallas-based Reverend Dr. Frederick Douglass Haynes III spoke in full support of the Justice Or Else movement calling Min. Farrakhan "a prophetic leader of our time," and in his brief comments titled "Stand Your Ground" he spoke of wealth disparities, poor education and things working against Black communities nationwide. He said that Justice Or Else is showing things are about to change, and so is society's power dynamic.
"Today we stand here, standing our ground because we all know the confederate flag is down, but the fight continues," Dr. Haynes said. "The sad reality is there is an attack on Black bodies in these yet to be United States of America," he added.
"Pharaoh had position, but Moses had the power," said Dr. Haynes. "You have folk with position, but God gave someone else the power because they were anointed," he added.
Tamika D. Mallory was also a guest working to make Justice Or Else a success, and she was interviewed by Dr. Bryant prior to Min. Farrakhan. She spoke about the importance of men standing up and said the power of women will be on display as she predicted women will "turn out in mass numbers" on October 10.
"It is our time to come forward and talk about the abuse that we have been suffering for many years that has gone unnoticed, we've stood behind the brothers. We've been abused, we've been beaten, but we've also been the backbone and it is our time now for the brothers to stand and lift our names," said Ms. Mallory. "The Honorable Minister Louis Farrakhan talks all the time about the nation not being able to rise any higher than its women—we understand that must be the anchor of what we do for 10-10-15!"
Ms. Mallory told viewers when she was young, although she grew up in the church, her parents would discuss on Sundays whether they go to church or visit Muhammad Mosque No. 7 in Harlem.
"We are under one," Ms. Mallory continued, "that's what it's all about, one church, one house, one love and it is one fight because we're all dying."
Farrakhan in studio
Min. Farrakhan entered the studio and made his way to his seat, Dr. Bryant smiled and told him how honored he was to have him on the show.
 "I'm so appreciative to be able to mark in history that I lived in the same chasm of time of one of the greatest leaders of our people. Never in the history of this nation have one million people ever gathered, except at your call. I'm appreciative that God preserved your life over these twenty years so another generation will be able to in fact have the reverberations of greatness. I'm thankful that he sustained your health and has kept you strong for such an hour as this," said Dr. Bryant.
The Minister's first statement described why a movement now is being made to take millions back to Washington, D.C.
"We are over fifty years from the march over the Edmund Pettus Bridge, we are over fifty years from the first March on Washington, we are nearly fifty years from the murder of Malcolm X and the assassination of Dr. King, and nothing has changed," said Min. Farrakhan. "We have loved our enemies and we have given all that we have for this nation. We built the country. Our sweat and our blood, our tears and our slave labor made America rich and powerful," he added.
The crowd was captivated as Min. Farrakhan addressed the controversy over the Confederate flag, and pointed out the tyranny Blacks have experienced under the American flag.
"All the hell that we are catching for the last 150 years is under not the Confederate flag," the Minster then thoughtfully paused, "but under the American flag."
"We're going back to Washington, because the capitol of the country represents the tyranny under which we live! That flag flies over the U.S. Congress," said Min. Farrakhan. "The flag flies over the state capitols where we don't get justice, the flag of America flies over red lining, over police brutality and mob attacks, the flag of America flies over the Supreme Court where we can't get justice! So my question tonight is, how can we continue to support a flag and a country that does not support our right to life, liberty and the pursuit of happiness? We must go back, but we must go back with a determined idea that it is Justice…Or Else!"
Many government officials are guilty of  crimes, under the stars and stripes of the American flag.
"You are the traitors, you are the ones who have betrayed that flag, betrayed life, liberty and the pursuit of happiness, betrayed the constitution, you are unworthy, and many of you should be brought to court and charged with crimes against humanity for the evil that you have done!" said the Minister.
Dr. Bryant asked Min. Farrakhan about the Republican Party's seventeen declared presidential candidates.
"None of those seventeen speak for the American people," said Min. Farrakhan. "Most of them are bought and paid for," he said.
After describing America's political system as a "horse and pony show," Min. Farrakhan said he would tell them "to go home" he did however, make a note about Donald Trump who is leading the Republican field of candidates.
"That's why Trump is listened to because he is not a whore," said Min. Farrakhan. "He has money, so the whoremasters can't buy him. The kingmakers can't make him, so that's why the American people are listening to him because for the first time, you have a man who can pay his own way," he said.
He said it is not different with the Democratic Party. They have also been unresponsive to the calls for justice and reform.
"No campaign speech is going to get our vote this year," he said.
The cry of the Black man and woman in America is worse than any other group that has been deprived, which is why the call for justice emanates from Black people first, however the movement encompasses all, the Minister noted.
Young people do not want to go to school, nor do they want to go to church. This generation is "cold and heartless" and when the drugs enter the neighborhoods, "We are socially engineered into the behavior of a savage," said the Minister. "We need a new educational paradigm and it is not going to come from White supremacy."
The Minister noted that he is hated by those with power because he speaks the truth, and will back it with his life, and that is what is needed from spiritual leaders within the community. In the scriptures, Jesus was a strong man who challenged the powerful religious and political leaders. With the way the media handles information nowadays, even they would have made Jesus seem like an extremist, the Minister noted.
"I say to pastors, you must man up, and stop preaching a doctrine that makes you a better slave—stop it! Don't put your cowardice on Jesus Christ" said Min. Farrakhan.
Min. Farrakhan pointed out the dentist who shot and killed Cecil the lion in Africa is in hiding and fears for his life, while Mike Brown Jr.'s killer Darren Wilson, Trayvon Martin's killer George Zimmerman and Oscar Grant III's killer Johannes Mehserle are all still alive and living their lives. And the protection of our women is mandatory.
"Some things are worth dying for," said Min. Farrakhan. "If we won't fight to protect our women, we are not worthy of them nor the children they have produced for us," he said.
"We have to answer for our weakness and our cowardice in the face of tyranny," said the Minister. "I think we need serious reconstruction of our thought processes."