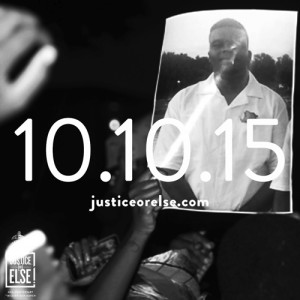 On August 9, 2014 the death of Michael Brown Jr., shocked and angered people to such an extent that the little town of Ferguson, just outside of St. Louis became known as "Ground Zero" and sparked nationwide protests against police brutality.
He was shot dead in the street at the Canfield Green Apartment complex by former Ferguson police officer Darren Wilson.
The young man's death has taken an emotional toll on his father, Michael Brown Sr., in fact, just a little over two weeks prior to his son being shot down, the 18-year-old  stood by his father's side as the Best Man during his wedding.
His son has now become the patron saint of a movement, a martyr. He shared his thoughts with me just steps away from where his son was killed.
---
Ashahed M. Muhammad (AMM:) Brother Michael, we're all with you, we've seen you on the front line marching and we admire your courage and bravery standing and want to tell you that we really appreciate you giving us your time to talk. We know this is really an emotional time for you.  Can you put any of your thoughts into words for us right now to let us know a little bit about how you're feeling?
Mike Brown, Sr. (MB:) Of course I'm still hurt, I'm still grieving, I'm still going through my emotions.  This is just the beginning—for me this fight has just started.  Where I'm heading with this big thing I'm pushing is just keeping aware of what these people have been doing to us for 400 plus years; I'm about the fight.
AMM: As it relates to what has happened so far what are you happy about and what are you unhappy about as far as justice for your son?
MB: Ain't nothing happening but me standing up for him! It's still a lot of work to do. I'm proud of myself, the team. I'm proud of St. Louis and everybody around that's standing with me but it's still a loss.
AMM: In your quiet time when you are alone and you reflect on memories of your son, because of the way he was characterized and demonized in the controlled media, what is something that people don't know about your son that they should know?
MB: That smile that goes across my brain every time I look at a picture or think of him.
AMM: Your foundation has been started. It is called Chosen for Change. That is the outgrowth of what has happened and a catalyst for activism in your son's name. Do you want to tell us a little bit about that?
MB: It was made up one night me and my wife were just sitting up looking at pictures that kids had drew of my son. One of the pictures was from a 10-year old of a picture that he drew of my son. He had (written) across the top of it and it said "chosen for change." And this 10-year old I'm looking for him so I thank him for the title. With this foundation we are basically based upon helping the youth empowering our youth, helping Black men and women; just keeping us strong and knowing what we need to do for ourselves to be mentally educated and the resources we need to keep going forward in life and positive.
AMM: "Justice or Else!" is the theme for the 20th anniversary of the Million Man March. Do you have any thoughts on that theme and Minister Farrakhan elevating your son saying he would be like our patron saint and one of the symbols of what this is all about?
MB: Yeah! I like that I like how he put that together … that's cold. (Smiling) That's all I'm going to say about that.
AMM: Thank you.
#JusticeOrElse