His July 18 keynote speech before a capacity crowd, with spill over rooms in an adjacent building at New Sunny Mount Missionary Baptist Church, was described as "candid and enlightening," "timely and uplifting."
"I've been to most of the cities with Minister Farrakhan on his tour except one and believe me, St. Louis—and I'm not saying this because I live here—was most impactful," said Nation of Islam International Representative Akbar Muhammad.
"The Minster inspired and moved and touched the audience. He made them laugh and some had tears in their eyes. He raised the level of energy in the packed auditorium and overflow room," he said. Minister Akbar Muhammad hopes the momentum will inspire people enough to join Minister Farrakhan in Washington, D.C. in October.
"He definitely dropped some huge bombs on some folks," said Dacia Polk, 26, who was hearing Minister Farrakhan for the second time in person. As a young mother and student activist, she is on board with the Oct. 10 gathering. "Anything that will allow us the time that we need to heal without being under fire, under pressure, attacked … to get ourselves back on track, I'm for it," she said.
For Marlon Lee, a life-long resident of St. Louis, Min. Farrakhan "did what he came to do and left an indelible mark." He delivered an empowering message to a troubled city that could be a "place for revival" and "epicenter for change" for the country, said Mr. Lee.
The speech was "very eye opening," commented Brandon Hinkle, 34. He was struck by the Minister's teaching about truly knowing Christ and the theme of self-responsibility.
Ken Franklyn, 54, serves veterans and the underemployed through his non-profit Humanitarian for Hope. This was an opportunity to hear from "a champion" and be educated on how violence, terror and fear can be counteracted, he said.
"As always he was powerful," remarked Carmen Austelle, a mother of four and grandmother of one. "Our community or our village—if you will—needed to hear this message. He always sets up and stirs the spiritual fire within us."
Regina Dennis-Nana was deeply "inspired" and "motivated" by the breadth and scope of the Minister's speech. "I really appreciated that his presentation had an international dimension to it as well. He added some insight to some of the things that transpired over the past two years … particularly what he said was true about (Muammar) Gadhafi and what Gadhafi has done," said Ms. Dennis-Nana. During his address Minister Farrakhan spoke about the late Libyan leader's accomplishments in the way of African self-reliance.
Minister Farrakhan was on fire as he lit up minds, hearts and spirits in meetings and sessions with clergy, politicians, youth, hip hop artists and during a powerful and historic visit to Ferguson, Mo., where 18-year-old Mike Brown, Jr., was killed by a White police officer. It was a grueling three-day schedule.
Student Minister Nuri Muhammad, who represents the Nation of Islam in Indianapolis, said Min. Farrakhan's love, straight words and warrior demeanor drew thunderous applause from the audience. The Minister spoke the language of the current generation, he added.
"The Minister is speaking the language to activate the Joshua Generation. … The Minister is on time with the message and we take him and his lead, his mindset. His spirit should be all of our spirit," he said.
"The Minister has given us some light to overcome the darkness," said Rev. Clyde Crumpton, pastor of Cote Brilliante Presbytarian Church who presided over the meeting on behalf of Reverend Donald Hunter, pastor of New Sunny Mount Missionary Baptist Church.
"The Minister represents all of what we need—economics, land, education, peace. He brings that spirit and knowledge with him that opens up our hearts and minds to where God wants us to be as a people," said Rev. Crumpton.
"The Minister did an awakening process to St. Louis that was just totally out of this world," said Student Minister Donald Muhammad of local Muhammad Mosque No. 28.
"His remarks were in regards to the overall condition of Black people and what must be done. So in that spirit of what must be done, his whole call for 10-10-15 is a call that must resonate in our whole community," said longtime activist Zaki Baruti of the Universal Peoples Organization.
Minister Farrakhan's visit came less than 21 days prior to the one year anniversary of 18-year-old Mike Brown, Jr.'s untimely death. The killing of Brown by former White Ferguson police officer Darren Wilson sparked civil unrest and protest from youth throughout America.
The federal government and local authorities have done little to ease increasing anger and tension between police departments and Black and Brown people in America—and fratricidal violence rages.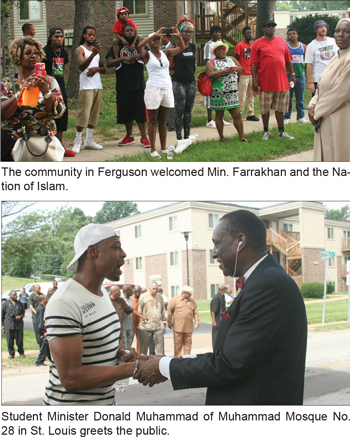 "Black people don't love ourselves, because we don't have the requisite knowledge of ourselves. So our pastors have to teach non-violence inside the house, in the home, in the community and then let nonviolence spread abroad. And if we stop the violence with each other, we're in a stronger position to stop the violence of the police and others against ourselves," said Min. Farrakhan during a St. Louis radio interview announcing his visit to Ferguson, Mo., a short distance from St. Louis.
Min. Farrakhan met with pastors, heads of organizations, St. Louis Police Chief Sam Dotson, and had a private meeting with the parents of Mike Brown, Jr.
"His presence is a tremendous impact here because we have been suffering in this city with the number of murders and violence with us. I think that his visit can't help but to bring peace and people are looking forward to the 20th anniversary of the Million Man March," said 70-year-old Joe Scoggin.
"Farrakhan has been on the trail for well over 60 years. He's respected by both Muslim and non-Muslims and if anyone can pull our community together nationally as well as internationally, I believe it's Minister Farrakhan," he added.
Some 50 community leaders, politicians and clergy filled a conference room of the Hyatt Hotel in downtown St. Louis for a meeting with the Minister. Ferguson Commission co-chair Rev. Starsky D. Wilson and commission member Rev. Traci deVon Blackmon; major 1995 Million Man March supporter Rev. C.V. Smith; State Senator Jamilah Nasheed; Dr. Lance McCarthy, economist and investment advisor; and St. Louis Comptroller Darlene Green were among the leaders.
The Minister electrified the audience as he quoted scriptures from the Bible and Holy Qur'an. He compared the current leadership to those during the time of Jesus. Religion as it is practiced has failed and religious divisions have been a major problem, said the Minister.
He urged pastors, leaders and activists to boycott Xmas spending this year. Spend time together instead of wasting money on a pagan celebration, he said.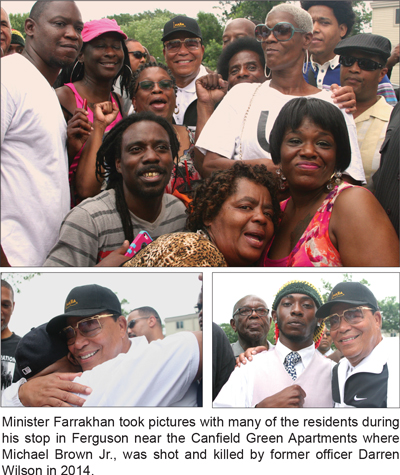 "Christmas is a time to celebrate family … share love in your heart during Christmas. Don't buy gifts this year, instead sit down and eat dinner with your family," said Min. Farrakhan
"The Minister being in St. Louis is the same as it have always been which is to inspire the community to want to be better and want to give back. He helps us to be committed to the advancement of our African American race, to do better as individuals and as a collective," said Michael McMillan of the Urban League of Metropolitan St. Louis
"This is my first time being in his presence and the timing is perfect for us as young people with all the negative influences and I feel like it's a great thing for someone positive to be able to influence young people," said Chelsea Beasley, 24, at New Sunny Mount Baptist Church.
"I've been in the heart of Ferguson since Aug. 9, and to see and meet the Honorable Minister Farrakhan today was, I don't know even know how to word it. You know it's just the things he was touching on. They meant so much to me because it meant that even though you see some of our elders in the streets, now we get a chance to see one of our elders try to guide us with wisdom. And we appreciate it, just on the strength he's still here and able to do what he's doing," said Marcellus Buckley, who is 23-years-old.
Activist Anthony Shahid, president Tauheed Youth Group, and originator of the chant "Hands Up! Don't Shoot!" said it was mind boggling as the Minister came in, took charge and was a whirlwind of never ending movement. His enthusiasm and ability to reach youth was phenomenal along with 10 different meetings, each mesmerizing and participants walked away with filled with direction, purpose and ready for "Justice Or Else!" the 20th anniversary of the Million Man March gathering planned for Washington, D.C. on Oct. 10, 2015, said Mr. Shahid.
"He came and took his city over, this is the only city named for him St. Louis. They were like babies and he was like the master teacher. He comes in like a world leader, he loves his people and it shows," said Mr. Shahid who is also an advisor to Mike Brown, Sr.
In Ferguson the Minister touched the youth, the residents, the Believers and as this is where it started and the Minister was here to help us keep it going, the activist continued. A private meeting with Mike Brown, Sr., was touching as the Minister handled the family, kept them focused and shared how Blacks have to stop killing one another as Blacks challenge those who are killing us, Mr. Shahid added. The Minister explained "that once youth know who they are, they would not turn on one another." He also talked about the importance of the Xmas boycott, Mr. Shahid said.
"I am in love with the Honorable Minister Louis Farrakhan, not same sex love. I am madly in love with him as my leader, my teacher and an international leader. You have never seen a man being moved like the Honorable Minister Louis Farrakhan is moved, no one. I am ready for 10-10-15 and whatever assignment he wants us to do. The main thing he wants us to do is to be unified," said the activist, who thanked The Final Call staff for their diligent effort and hard work during the trip.