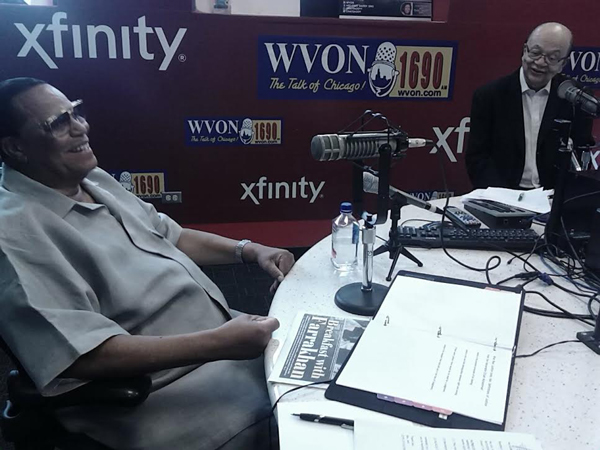 CHICAGO—Entering the broadcast studios of WVON1690 AM with a beaming smile and moving in a brisk no nonsense manner, the Honorable Minister Louis Farrakhan of the Nation of Islam sat down with longtime talk radio host Cliff Kelley for two and a half hours of frank, in-depth observations, sharing keen insight on a variety of topics affecting Black communities nationwide and global geo-political events. It was the Muslim leader's first interview at the historical Black-owned radio station in nearly two years as he crisscrosses the country leading up to the 20 year anniversary gathering of the Million Man March in October in Washington, D.C.
Speaking on subjects ranging from police brutality and intense anger and protests from youth responding to systematic abuse and misuse at the hands of law enforcement, fratricidal violence Blacks inflict on each other and the consequences of continued and impending chastisement by God on America and its people if such behavior continues, Min. Farrakhan shared practical and divine solutions.
The Minister did not mince words June 11, pointing out the root of today's problems from an historical perspective. He shared with the listening audience an exchange of correspondence in the 1950s between the Most Honorable Elijah Muhammad, patriarch of the Nation of Islam and J.B. Stoner, Imperial Wizard of the Ku Klux Klan.
In his letter, Mr. Stoner said one day the KKK would relinquish wearing notorious white hooded sheets in exchange for black judges' robes and blue police officers uniforms and would be influential in other areas of influence and power yet continue with the same White supremacist and racist mindset. Fifty years after Dr. King, Malcolm X and civil rights marches Blacks continue to face the same obstacles.
"What we are seeing is a multiplicity of evils, handed down to us not just from the police. The police are the lowest on the socio-economic rung of the tyranny that Black people face," said Min. Farrakhan in response to Mr. Kelley's question about uprisings in Ferguson, Mo., Baltimore and the current state of Black people in the U.S.
The Black community has come to a turning point, the Minister warned.
"How long can a people suffer under tyranny and oppression and not give that tyranny and oppression an appropriate response? And that's why the theme of the 20th anniversary of the Million Man March is Justice or Else," said Min. Farrakhan. "If we are denied what rightfully belongs to us then there has to be a unified action that we take that will force the justice that we seek to finally come to us."
In 1995, the Minister continued, nearly two million Black men went to the nation's capital not to petition government but God and to atone with themselves, their women and children. But this time it is different, he said during the broadcast which was streamed live via Internet and trended on Twitter in Chicago and other cities.
"Now we're at the point where we have to go to our government because the government is failing to give minimum justice to those of us who hurt and cry out for it (justice)," explained Min. Farrakhan adding that it is a serious hour and time for America and Black people in particular.
"We have to make a decision today as to which way we want to go. Do we want to pass on to another generation the legacy of our cowardice and our unwillingness to make a sacrifice for freedom, for justice, for equity?" he asked. Black people have prayed, kneeled, cried, marched and done everything short of anarchy and revolution to gain equality but nothing has worked the 82-year-old leader pointed out. "But what do we have to show for it? Nothing." A different approach is now required, he said.
The Minister also addressed the role of Black police officers. Three of the six police officers charged in connection with the death of Freddie Gray, an unarmed 25-year-old who died a week after his arrest from severe injuries, in Baltimore were Black. In a predominately Black city with a majority Black police department and where the mayor, police commissioner and state's attorney are Black, the circumstances are the same. Mr. Kelley asked Min. Farrakhan, how should Black people handle these types of situations?
Many Black police officers know evil happens to their own people and some of them will speak out, said the Minister who shared he received word that some Black officers want to talk to him about what they see happening. He shared some critical yet forthright words of wisdom.
"Now if we don't wish the wrath of God and the wrath of the community to fall on us as Black people who are on the force then we have to speak up against the evil that is happening to our people and worse than that we have to disengage from being evil and wicked to our own people to prove to White people that 'we're with you against the rise of our own people," said Min. Farrakhan.
There are good policemen and women who want to do a good job, said Min. Farrakhan. "But when evil is done to us and the ranking authorities become apologists or lie and do wicked things to hide the criminality of a so-called peace officer, when police unions don't give a damn about the rightness or wrongness about what is going on but they take the side of the police, then where do we go?" he asked.
If Blacks are not given redress of their grievances within law enforcement departments then what should the people do, and how should they act and react? the Minister continued.
"We have witnessed all over the world when they are tired of oppression tyranny, people don't give a damn anymore about their lives. They're ready to lose their life and cause the loss of much life because until we are ready to give up our lives to make lives better for those that come from us and those that will come behind us, then we're not ready for the freedom and the justice that we seek."
To order Min. Farrakhan's June 11 interview on The Cliff Kelley Show on WVON 1690AM in its entirety, visit store.finalcall.com or call 1-866-602-1230, ext. 200.
– Starla Muhammad, Assistant Editor Final Call Newspaper